Summer has yet to arrive in southwestern Ontario and as much as I personally love the temperature, my dd is complaining about how cold and rainy it is. I hate being hot and sticky. So I made this simple double layout to remind her of warmer days. Days where it was so hot you were just happy to run through a sprinkler ~ because that is what was going to keep you cool.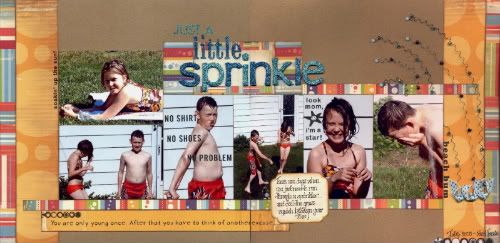 Maybe it will inspire you to warm yourself up with a summer layout or two. Thanks for looking and let me know what you think.
Products used: Cosmo Cricket ~
Snorkle papers & rubons, American Craft Ribbon, Making Memories Mini Shimmer Letters, Ready to glitter letters, Scenic Route chipboard letters, Beads & wire.