I am so excited that I just have to share with you. Last week I received an email from Allison Cope at Scrapbook and Cards Today
Magazine
and
Blog
about a layout I submitted. And guess what?? My layout is the
reader's submisson
entry for this week.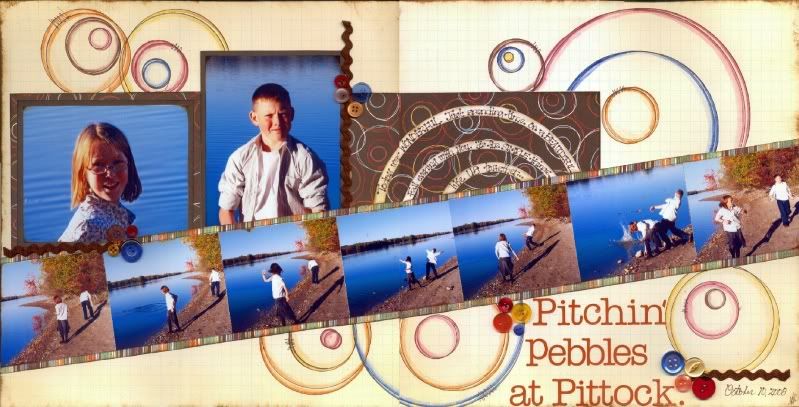 I have to admit I was a little stumped by the layout at first. I wanted to showcase the beautiful colour of the water and the persistant stone throwing that was going on. The way the sunset cast a shadow on the children's faces but I love the imperfection of the photos. At first I wanted to machine stitch the circles but that didn't work and I rapidly scrapped that idea. I dug out my water colour pencils and went for it. Drawing circles to mimic the water ripples and highlighting them with washed out paint. Thanks for looking and let me know what you think
Sorry the scan is so dark but even the rescan is this dark. I think I will have to play with my settings again (I am about to find another use for my eyelet setting mallot)
Products Used:
patterned paper, Scenic Route, American Crafts, BasicGrey; buttons, Buttons Galore; alphabet stickers, Scenic Route; ink, Ranger; pen, Zig Writer; ric rak, May Arts; water colour pencils, Staeditler, Design.
For my facebook friends - Pop by my blog ALWAYS LOOKING UP and leave me a note.