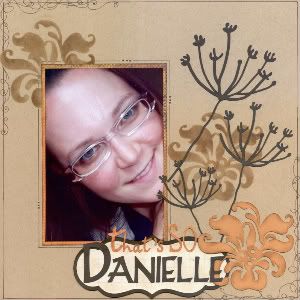 This past Sunday was my younger sister's birthday ~I won't tell you how old she is because most girls don't like that. She moved from just 30 mins away to 2 hours away and this was the first weekend we were able to go and see the new house, the new town, her & her husband and the 4 children. It was a beautiful day and we arrived early for the "Surprise Party" so we took a little tour of the cottage town where she now lives. I have to say, she is truly blessed to be so close a beautiful lake with soft sandy beaches. That's so Danielle. Her new house was bright, cheery, decorated with touches of Chocolate, Orange and Lime and filled with laughter. That's so Danielle. I was speaking with my Mom and telling her about the layout I was doing and how I could not think of a title for it and my mom said, "That's So Danielle" and she was right. When we see something orange and cheery we think of her. When you get a little stick man in a card you think of her. When I think of a faithfilled woman I think of her. THAT'S SO DANIELLE.
This Layout was created with a variety of Cricut Cartridges from my
LSS
where I work. We have a new Cricut Cartridge library and there are some really fun ones out there. I used the Home Accents, Wild Card & good old George. I used the negative of the orange die as a stencil. I had to doodle on this layout because Danielle loves to doodle on things.
Thanks for looking and let me know what you think.
Products used:
Prism - Kraft, Coco, World Win Treasures - Butternut Orange, Basic Grey - Mellow Juicy, Zig Writer - Chocolate, Tim Holtz - Vintage Photo.