"If you start behind you'll never get ahead."
Have you ever had a goal you never thought you would complete? We all start out wanting to scrapbook every photo we take. I have discovered that in my world this will never happen. I have a goal for this summer to completely scrapbook from Sept. 2008 ~ Sept. 2009. I have made a great start on both the fall pages and the spring pages, all of which I will share with you.
This week was my DS's grade 8 graduation. I thought I might share a layout of his first day of grade 8, September 2, 2008. Thanks for looking and tell me what you think.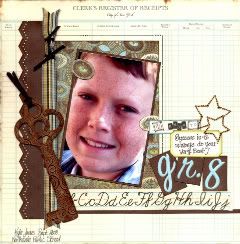 Products used:
October Afternoon - Garden Chair, Ducks in a Row Label Stickers, All My Memories - striped ribbon, Tim Holtz Grunge Board Key, Antique Photo Distress Ink, Kaiser - Star Rhinestone bling, Basic Grey Mellow - Harvested, Seasoned, Creative Impressions - narrow black ribbon, 7 Gypsies alphabet ribbon (?) E.K.Success - Tiny Alphas, Zig Writer - black, Martha Stewart border punch